Spain 2021 Toledo colored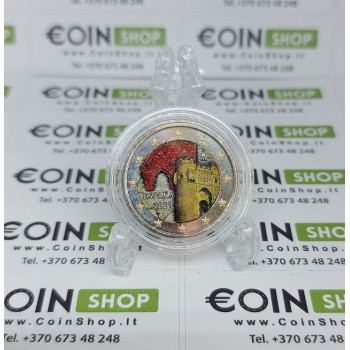 Spain continues its annual tribute to the properties and places inscribed on UNESCO's World Heritage List with the issue of a commemorative 2-euro coin. Continuing with the theme initiated in 2010 for 2 euro commemorative coins to commemorate these properties and places, the FNMT-RCM issues the twelfth coin in this series, dedicated on this occasion to the Historic City of Toledo.

The obverse of the coin shows a view of the Puerta del Sol, a 14th century Mudejar-style building, together with a mural decoration of the Prayer Room of the Synagogue of Samuel Levi, located in the heart of Toledo's Jewish quarter and today's Sephardic Museum.
Weight - 8.5 g.
Quality - UNC (Uncirculated) colored coin in capsula
Diameter - 25.75 mm.
Composition Bimetallic - nickel brass clad nickel center in copper-nickel ring
Country of origin - Spain
Year - 2021

Latest