France 2021 2 euro regular coin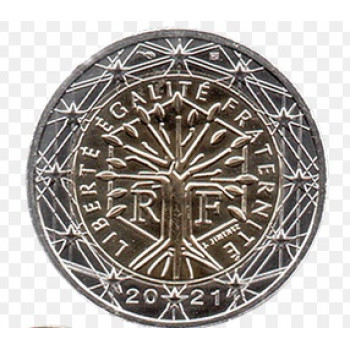 Over 1,200 designs were considered for the national side of the French coins. A panel chaired by the Minister for Economic Affairs and Finance chose three designs, each for certain specific denominations.
The panel consisted of experts in numismatics, artists, a former Member of the European Commission (Christine Scrivener), Members of Parliament, the French Mint Director Emmanuel Constans, the General Engraver Pierre Rodier and the actress Irène Jacob, along with members of professional bodies. They selected the following designs:
€1 and €2 coins: a tree, drawn by the artist Joaquim Jimenez, appears on these coins, symbolising life, continuity and growth. It is contained in a hexagon and encircled by the motto of the Republic, "Liberté, Egalité, Fraternité" (Liberty, equality, fraternity). Edge lettering of the €2 coin: 2**, repeated six times, alternately upright and inverted.
The euro coin series comprises eight different denominations: 1, 2, 5, 10, 20 and 50 cent, €1 and €2. The euro coins have a common side and a national side. The national side indicates the issuing country. The common sides of the coins were designed by Mr Luc Luycx of the Royal Belgian Mint.
They show images of the European Union or of Europe and symbolise the unity of the EU. The 5, 2 and 1 cent coins show Europe in relation to Africa and Asia on a globe.
You can use any euro coin anywhere in the euro area.
Weight - 8.5 g.
Quality - UNC (Uncirculated)
Diameter - 25.75 mm.
Composition Bimetallic - nickel brass clad nickel center in copper-nickel ring
Circulation -
Country of origin - France
Year - 2021

Latest