Italy 2021 Health professions Grazie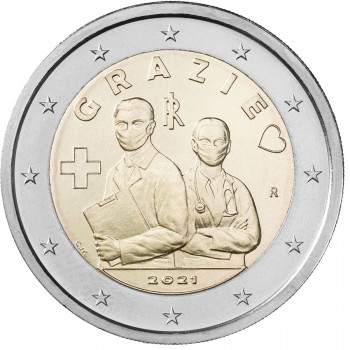 The coin is dedicated for doctors fighting the COVID-19 pandemic, on the coin there are a man and a woman, in medical clothing, equipped with masks, stethoscope and medical folder. At the top there is the word THANK YOU and immediately below we find the letters R and I superimposed on each other which indicate the Italian Republic.

To the left and to the right of the Grazie we find two important symbols, on the left side we find the Medical Cross while on the right we find a heart. Under the heart there is a small letter R which indicates the Mint of Rome.

In the lower part we find the year 2021, that is the year the coin was minted. At the bottom left we find the initials C.M. which is the signature of the author Claudia Momoni. On the outside of the coin there are, as always, the 12 stars of the European Union.

Weight - 8.5 g.
Quality - UNC (Uncirculated)
Diameter - 25.75 mm.
Composition Bimetallic - nickel brass clad nickel center in copper-nickel ring
Circulation - 3'000'000 pcs.
Country of origin - Italy
Year - 2021

Latest