LEUCHTTURM coinholder 27,5mm. SELF-ADHESIVE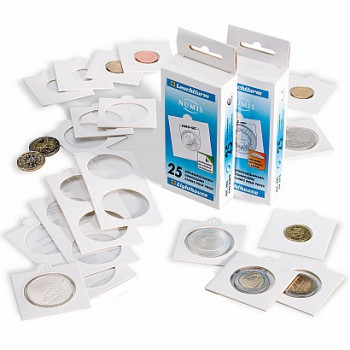 A perfect framing for your coins
Made from strong card with 100% chemical softener-free, anti-glare film. Handling of coins without touching the surface. Simply place the coin in the open frame and press the two sides together. To activate the adhesive, tightly press the coin holder closed. The holder is a secure and airtight container for your coin. The coin holders can be labeled if desired. Overall size: 50 x 50 mm (2 x 2").
25pcs. self-adhesive Leuchtturm coinholders
Holder total size: 50 x 50 mm.
Manufacturer: Leuchtturm Albenverlag GmbH & Co. KG.
Made in Germany.
Latest